Platform - Paid Search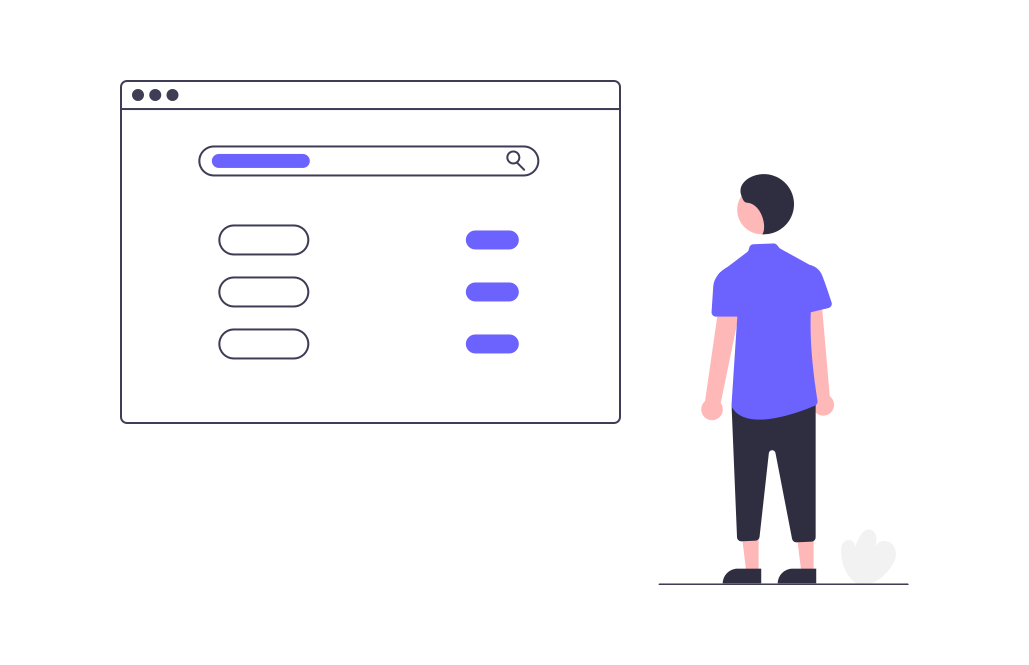 AUTOMATED PPC PLATFORM – GOOGLE, BING AND YAHOO PAID SEARCH MANAGEMENT
AdMax Local is the world's first fully automated local digital marketing solution that enables small businesses to benefit from high quality and profitable local paid search campaigns and responsive websites. Leveraging powerful AdMax Local technology and our expertise in search marketing and designed for Resellers, Directories, CMRs, Franchisors, and other intermediaries who want to manage local digital marketing campaigns for their clients, AdMax Local produces, manages and reports on hyper-local, optimally structured, highly relevant and performance-focussed search engine marketing campaigns.
AdMax Local's automated approach significantly reduces operating costs, allowing our partners to offer this solution to the "long-tail" of SMB customers spending as little as a few tens of dollars per month, whilst scaling up to advertisers that spend in the thousands. Traditional agency platforms are designed for large, highly competitive, national advertisers, and are incapable of cost-effectively serving SMBs. AdMax Local automates costly quoting and order creation processes, and dynamically creates and deploys hyper-local campaigns, allowing resellers to manage tens of thousands of SMB accounts with very little hands-on management. The result is a far lower cost of ownership than that associated with traditional agency-type platforms.
ADMAX LOCAL'S BENEFITS:
Full Automation of every step – sales, pricing, creation, management, optimization, reporting - provides much lower operating costs – allowing end budgets to be invested in merchant success rather than duplicated and inefficient effort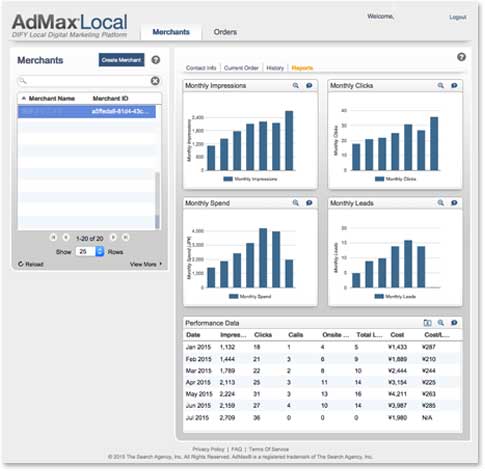 Advanced local SEM functionality: Developed based on The Search Agency's extensive search expertise, AdMax Local delivers quality and hyper-local campaigns that deliver better results for end advertisers.
Uses advanced algorithms to optimally allocate budgets and bid completely and effectively, even for multiple competing advertisers within a common geography.
High-value search traffic delivers more calls and conversions—and thus dramatically lowers merchant churn and delivers higher lifetime value.
An opening-price-point paid search product allows expansion of the serviceable market.
Search engine optimized responsive and mobile landing pages and lead generation websites effectively promote the merchant, are optimized for SEM, SEO and conversions, and guide the consumer to take action.
Platform agnostic: enabling local advertisers to effectively manage inventory from various media owners, including Google and Bing.
Best-of-breed call measurement tracks marketing investment value.
Scalability supports ongoing growth—across different geographies, and incorporating new media sources—without adding headcount.
Proven track record – AdMax Local has been used successfully by businesses around the world since 2009.
The Search Agency's expertise in search is built into the platform; as a result, little such knowledge or experience is required from the subscriber's sales and customer service teams. Using AdMax Local's intuitive user interface, sales personnel need only respond to two simple questions: what does an end merchant do, and where do they do it? AdMax Local can then estimate clicks and spend as well as launching campaigns according to the merchant's goals and budget..
From here, the automated system—with integrated search best practices—builds optimal account structure, serves localized keywords, builds keyword-relevant ad copy and launches the campaign. Sophisticated bid and budget management algorithms then work to spend the budget optimally, reacting to varying levels of demand, and ensuring budgets are spent, and spent wisely. Meanwhile AdMax Local's campaign optimization replaces the need for human campaign management work – the solution understands what is working, and optimizes campaigns accordingly, to drive better returns for merchants..
AdMax Local is a SaaS platform and can be employed off the shelf. It is also highly configurable and can be specially customized, with or without APIs, as well as white-labeled for each implementation. The platform's modular architecture allows functionality to be incorporated or omitted as needed. Deployed within the North American, European and Asia-Pacific markets since 2009..
AdMax Local automatically combines strategically selected keywords, targeted ads, and optimized landing pages to generate high ROI, reduce operating costs, deliver increased SMB returns, and generate strong retention.
Our Services
Managed Services
Platform Services